I was recently on a trip to Prince Edward Island, and ended up coming home with a lot of canned lobster.  A case of it.  While there, we ate a lot of lobster.  We had lobster every day we were there.  So, once we got back, we had eaten enough lobster for quite a while.  Or so we thought.  It only took a few weeks until we decided it was time to make a lobster roll.
I decided to make a maritime style lobster roll with the canned lobster meat.  Using fresh lobster would probably be better, but we had canned lobster in the pantry, so that is what we used.
This recipe uses an immersion blender to make the mayonnaise.  You can use store bought mayonnaise if you want.
The mayonnaise I make in this recipe has more lemon juice in it than normal mayonnaise.  The lemon juice goes very well with the lobster, so I use the juice of an entire lemon.  If you are using store bought mayonnaise, you may want to add some lemon juice to the mixture.  A tablespoon of lemon juice, or the juice of half a lemon should be enough, but feel free to add as much as you want.
Note about mayonnaise:
If you are using store bought mayonnaise, use 2 to 4 tablespoons of mayonnaise along with a half, to a full tablespoon of lemon juice.  I like my lobster sandwiches creamier and tangy, so I use 4 tablespoons of mayonnaise, along with a tablespoon of lemon juice per can of lobster.

Print Recipe
Maritime lobster roll
Yum
A quick and easy maritime style lobster roll with tarragon and chives.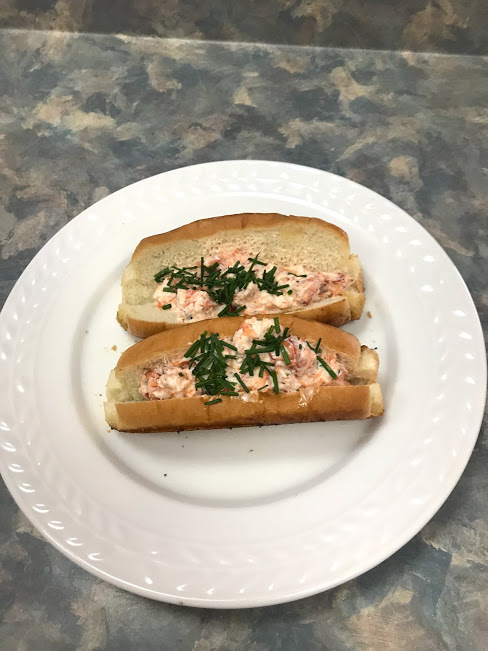 | | |
| --- | --- |
| | |
If you are using store bought mayo, you can skip this section.

Crack the egg into a tall, narrow container, just slightly wider than the head of the immersion blender. Add the mustard, and lemon juice, and a pinch of salt.

Pour the oil on top, and allow the mixture to settle. The oil should float on top of the egg.

Turn the immersion blender on high, and mix. Slowly moving the blender up and down, to pull everything together.

Store the mayo in the fridge. It should last up to a week in the fridge.
Mixing the lobster filling
Mix the canned lobster, 4 tablespoons of mayonnaise (either store bought, or the homemade mayonnaise), and the tarragon. Stir to combine.

If desired, add some more salt to the mixture, or more tarragon, depending on taste.
Heat a non-stick skillet on the stove over medium heat.

Butter both sides of the top sliced hot dog buns.

Put the buttered buns on the skillet, with one of the buttered sides down. Allow it to brown. It should only take two or three minutes.

Flip the bun to the other side, and brown the second side. Don't let them burn.
Spoon the lobster mixture into the buns, trying to divide it evenly.

Sprinkle chives over the lobster mixture, and serve.