At Brazilian style steakhouses, my favourite is always the Brazilian style Garlic Steak.

I've never tried to make it though. I can usually get enough of it while I'm there. The most recent time I went, my wife was unable to join me. When I talked about how much I enjoyed the Garlic Steak, she suggested I make it for us.

I messed around with a few different combinations, and methods, and I think I've settled on my favorite. This is how I make my Brazilian style garlic steak.

The Meat
The Brazilian Steakhouses I've been to tend to use sirloin steak for the garlic steaks. Sirloin is good, but I used Strip Steak. I find strip steak to have more flavour, and I always have strip steaks available.

You can use other cuts of steak. For cutting it into cubes though, sirloin or strip steak would probably be the easiest.
A common cut of beef at Brazilian Steakhouses is called "Picanha" and isn't a common cut of beef in Canada. The Picanha cut is from the rump. You can buy a rump roast and trim the rump cover off and use it, but I'd stick with strip steak or sirloin.
Other Brazilian steak house inspired recipes
This is not my first recipe that has been inspired from a trip to a Brazilian steak house. I first learned about chimichurri from a visit to a Brazilian steak house.
I am sure there will be more dishes inspired by trips to a Brazilian steak house, but if there are any dishes anyone would like helps coming up with, please let me know, and I will see what I can do.
Print Recipe
Brazilian Style Garlic Steak
Yum
A take on Brazilian garlic steak. It has beefy flavours mixed with garlicy goodness. A winning combination!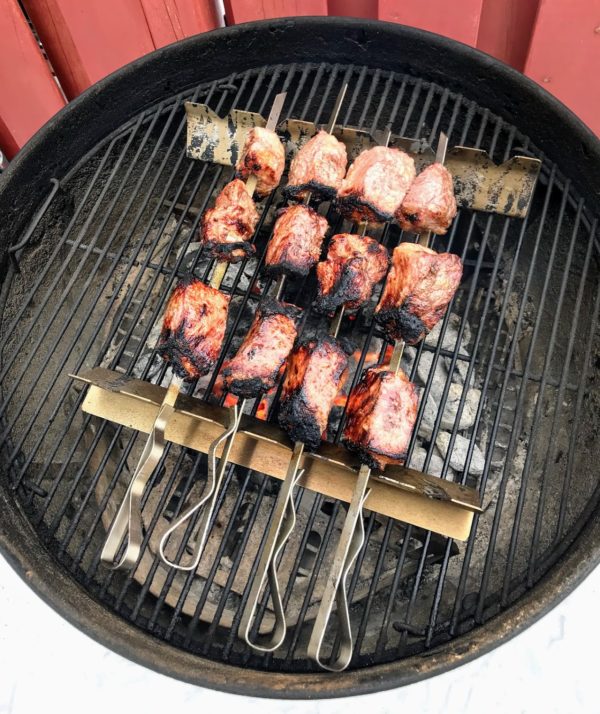 | | |
| --- | --- |
| | |
Combine the garlic, salt, and oil together.

Cut the steaks into cubes roughly the same size.

Place the cubes of steak into a zipper-lock style bag, and pour garlic, oil, and salt mixture over it.

Make sure to coat all of the cubes of meat. Refrigerate the meat for a couple of hours, up to a day. Making sure to flip it occasionally, so all of the meat gets flavoured.
Pre-heat a grill to medium heat.

Skewer the meat making sure not to crowd the skewers.

Place the skewers on the grill

Cover the grill, and flip the skewers every three or four minutes. Cook until they are 125°F to 130°F for medium-rate, or 135°F to 140°F for medium. There will not be much carry-over cooking on the cubes of beef, so if you like it on the more done side of things, err on the higher side of the ranges.
Remove the skewers from the grill and place them in a heat proof container.

It really looks nice bringing the full skewers to the table, and letting your diners have their own skewer, but remember, these skewers are going to be very hot. I highly recommend you wear gloves while removing the meat from the skewers to the diner's plates.