Chimichurri is an Argentinian green sauce that goes great with beef.
I first had chimichurri at a Brazilian Steakhouse.  I wasn't too sure what it was at the time.  The meat appeared to have a green marinade that had a slight spiciness to it.  The marinade also had a tang of vinegar.  I decided to try making it myself.
The ingredients for chimichurri are straight forward, and the recipe is easy to adapt to your own tastes.  If you want something a little spicier, you can add more dried pepper flakes.  If it is too spicy, you can add less.
The main ingredient in the recipe is parsley.  You should use fresh Italian parsley, which is also known as flat leaf parsley.  If you use dried parsley, or dried parsley, the taste isn't as vibrant, and fresh.  I have used dried oregano in making the recipe, and haven't noticed as much of a change in the final flavour.
You can use chimichurri as a marinade, but the flavour is much duller and muddled after cooking.  Spooning it over beef after it is cooked produced a much brighter, and fresh tasting dish.  You can do both, use as a marinade, and spoon over for serving.  I have done this with flank steak, and it produces a fairly tasty meal.
I used to serve steaks with a compound butter, but now, I almost always serve chimichurri with steak.

Print Recipe
Chimichurri
Yum
A tangy, spicy, fresh tasting sauce that pairs well with beef.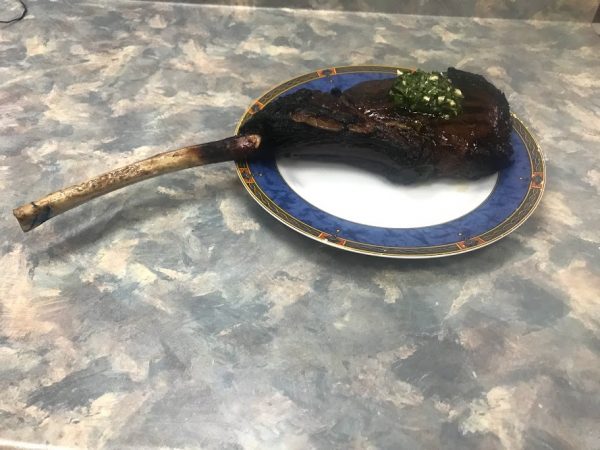 | | |
| --- | --- |
| | |
Wash and dry the parsley in a salad spinner, and trim off the stems.

Wash and dry the oregano in a salad spinner, and remove the leaves discarding the stems.
Add garlic, parsley, oregano into food processor and pulse until finely chopped.

Move food processor contents to a bowl, and mix in the remaining ingredients with a fork.

Allow to rest for at least 30 minutes before using.
Using a sharp knife, finely chop the parsley, and oregano. Add it into a work bowl.

Crush the garlic with the side of the knife, and mince it so that it is finely chopped and uniform in size. Add it to the work bowl as well.

Add the remaining ingredients to the work bowl, and stir with a fork to combine.

Allow to rest for at least 30 minutes before using.

To serve, spoon over meat.
Keep  leftovers in the fridge for up to a week, but allow to come up to room temperature before serving.
If you want to make it spicier, you can increase the red pepper flakes used, but I have found that they quickly become overpowering.  I subtle hint of spiciness seems to provide the best balance.
If you are cooking a cut of beef suited for marinading, such as a flank steak, you can use the chimichurri as a marinade, but make sure to reserve some for serving.  The brightness and crisp flavor is lost during the cooking process.