Philippine adobo is a marinaded Filipino braised dish. An adobo marinaded typically vinegar, soy sauce, garlic, and peppercorns. This is the my take on chicken adobo.
It is embarrassing to admit, but before making it, I had never had chicken adobo. Or any other adobo dish.
I first heard about chicken adobo while watching a TV cooking show. On the show, food critics had to justify their critiques. They also had to cook the same dishes for the chefs that they had judged harshly.
While describing the dish, I became very intrigued. Adobos feature vinegar, soy sauce, and garlic. They are a salty, tangy, garlicky dish that sounded great. I began reading recipes for making adobo, and this recipe is the result.
This dish is keto, or low carb diet friendly, and is a great meal to make if you are cooking for people not on a keto diet.
If you are serving the dish over rice, you may want to strain out the peppercorns, as they still retain a fair bit of bite, and may be overpowering.
Vinegar, salt, pepper, and garlic! And in a one pot dish that is easy to cook, and requires very little prep time. What is not to love!
It works well on its own, or goes great over steamed rice.

Print Recipe
Chicken Adobo
Yum
Chicken adobo is a Filipino dish that is salty, and tangy.  It works well on its own, or goes great over steamed rice.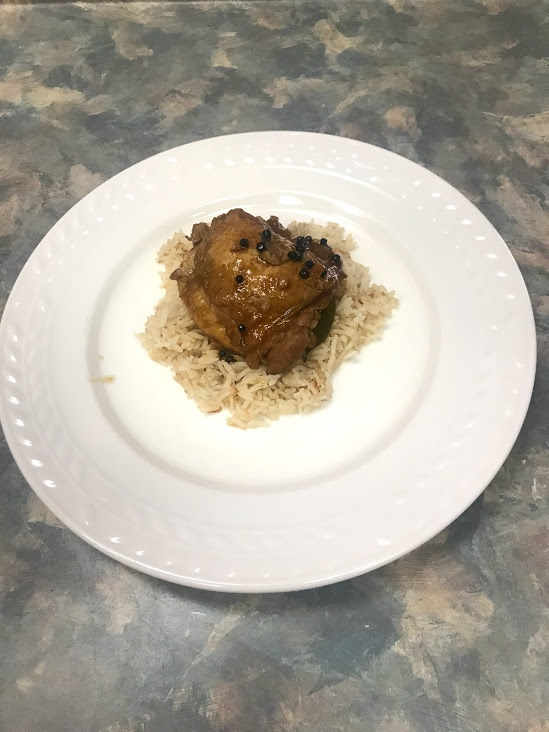 | | |
| --- | --- |
| | |
Combine thee garlic, soy sauce, vinegar, peppercorns and stir to combine.

Add chicken and mixed sauce, and bay leaves to a zipper lock sealable bag, and allow to marinate in the fridge for 2 to 4 hours, flipping occasionally.
Add the contents of the sealed bag to a large pot with a lid. Avoid using a cast-iron pot.

Bring the pot to a boil over high heat.

Reduce the heat, and cover. Allow to simmer for 30 minutes.

Remove the lid and continue to simmer stirring occasionally. Baste the chicken occasionally. Continue to simmer for 20 minutes, or until the chicken is tender and the sauce has reduced, and thickened.
You can serve the chicken over steamed rice, with some of the sauce spooned over the rice, or simply serve the chicken by itself.
The sauce will be quite salty, but in moderation, is good for a dipping sauce, or spooned over rice.