How did I come up with Molasses and Soy Sauce chicken wings? This may sound strange, but this is a recipe I came up with during a dream.  My wife wasn't that impressed that in the middle of the night, I woke her up and told her we needed chicken wings, and I was going to try making Molasses and Soy Sauce chicken wings.  She didn't seem as enthusiastic as I did, but that might be because I had woken her up in the middle of the night.  But that is how I came up with this recipe.
In the morning, I thought about it a bit more, and started tasting different combinations of molasses and soy sauce.  I noticed it tasted somewhat familiar, but I couldn't put my finger on why that was.  As I played with the ratios, I decided to add some garlic, and then it hit me.  Teriyaki!  I had pretty much made teriyaki sauce, all it was missing was some ginger.
I have since made it with, and without ginger, and both work, but I preferred the one without the ginger.  With the current recipe, the garlic isn't that pronounced, but if you want a stronger garlic flavour, you can easily add more garlic to the marinade.

Print Recipe
Molasses and soy sauce Chicken wings
Yum
Baked Molasses and soy sauce chicken wings are a quick to make meal that is sweet and salty.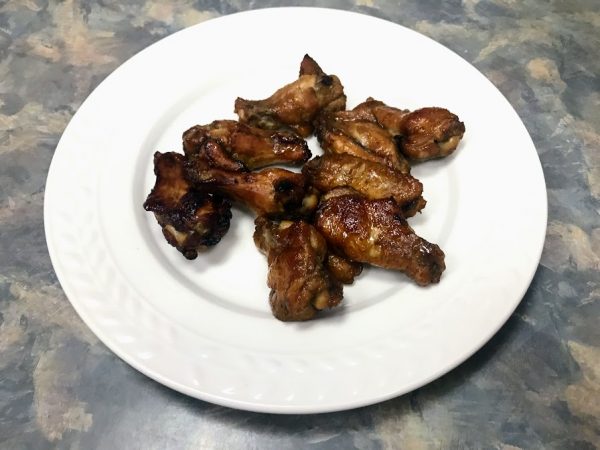 | | |
| --- | --- |
| | |
Mix the molasses, soy sauce and garlic powder.

Put the chicken wings into a zipper bag and pour the mixture over. Seal the bag, and toss to coat.

Allow the wings to marinate in the fridge for at least 30 minutes. You can allow them to marinate overnight if you would like, but it won't add much more flavour.
Place a wire rack on a foil lined baking sheet.

Lay the wings out across the wire rack. Do not stack the wings, and if possible, try to leave a bit of space between them. Discard the left over marinade.

Place the wings in the oven, and cook for 45 to 50 minutes, turning over after 25 minutes. If there is too much smoke, or they are turning too dark, turn the oven down.

After 45 minutes of cooking, remove them from the oven, and serve. They will be hot, so be careful.
You can deep fry the wings if you would like, but because of the wet marinade, they won't be as crispy as a dry-rubbed wing, so I decided to bake them.