I have never been a huge fan of lamb, but recently, my wife has been asking me to smoke leg of lamb. So, I developed a recipe, and ended up with a smoked leg of lamb with rosemary, garlic and lemon. I have to say, I really enjoyed this lamb. This was the first lamb I've had that I can honestly say I really enjoyed. I will be adding this recipe to my rotation.
You do not need to use a smoker if you do not have one. I have included directions for using an oven as well. In fact, for the final browning step of the recipe, I used the oven to finish the lamb.
I am now a fan of smoked leg of lamb.

Print Recipe
Smoked leg of lamb with rosemary, garlic, and lemon
Yum
Lightly seasoned, smoked leg of lamb with hints of rosemary, garlic, and lemon.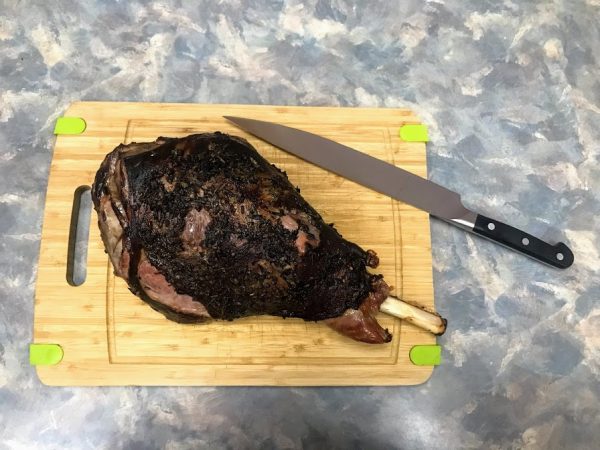 | | |
| --- | --- |
| | |
Finely mince the garlic, rosemary leaves, anchovy fillets together.

Heat a small pan on the stove over medium heat. Once heated, add the extra virgin olive oil.

Add the garlic, rosemary, and anchovy paste, along with the lemon zest and red pepper flakes. Heat until fragrant and garlic begins to brown, stiring frequently. About 2 to 3 minutes.

Move mixture to a bowl, and add salt, pepper, and lemon juice, and allow to cool.

Once cooled, rub the mixture over the lamb.
Pre-heat smoker to 225°F to 250°F. Add the smoke wood once heated. I use hickory.
Pre-heat the oven to 225°F,

Place the leg of lamb on a wire rack in a backing dish that can withstand high heat (up to 450°F).
Place the lamb in the smoker or oven, and allow it to cook. For medium rare, cook to 125°F, and for medium, cook to about 135°F in the thickest part. This should take about 3 hours to 4 hours depending on your smoker and the weather, or your oven.

Once the lamb has reached the target temperature, remove it and allow it to rest for 45 minutes to an hour, covered in foil.

Once rested, heat your oven (or grill, or smoker) up to 450°F.

Now cook the lamb for 15 minutes at 450°F to brown the outside. Watch it carefully, and if it begins to burn, remove it. We are going for nicely browned, not burnt to a crisp.

Once the desired brownness is achieved, remove it and allow it to rest for 5 to 10 minutes.