Growing up, I always thought I didn't like mushrooms. I avoided mushrooms well in to my twenties. One evening, I was at a high end steak house, and my steak came with sauteed mushrooms. I didn't mind, I thought I would just move them to the side. But of course, I tried them first, and I was confused. I liked what I tasted. It turns out, I don't like raw mushrooms, but I love sauteed mushrooms.
Sauteed mushrooms go great with beef, and are a quick way to jazz up a steak. You can use any fresh mushrooms you want for this recipe.
Note (sautéed vs sauteed)
I know "sautéed" is proper, and I should have used it throughout this recipe, but I seem to use them interchangeably. For all the French I studied, I know I should use the proper spelling, but I just don't. Sorry.

Print Recipe
Sautéed Mushrooms
Yum
A buttery, garlicky, sauteed mushrooms recipe that will go great with a grilled steak.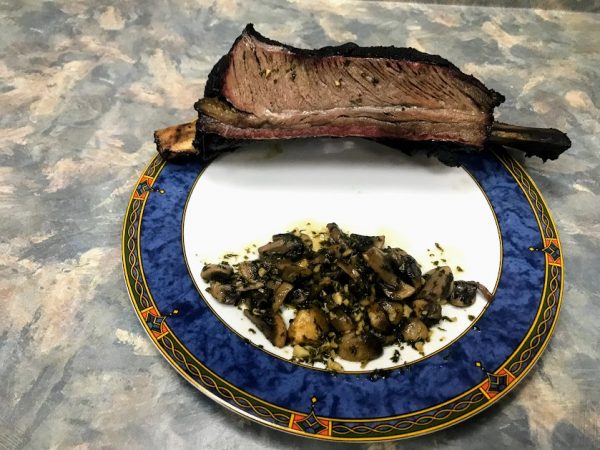 | | |
| --- | --- |
| | |
Wash the mushrooms, and spin in a salad spinner to dry.

If using smaller mushrooms (like button mushrooms), cut the mushrooms into quarters. If the mushrooms are larger (like cremini mushrooms), slice them thinly.

Heat a large cast iron frying pan over medium-high heat. Once it is heated, add the oil.

Once the oil has heated, add the mushrooms to the pan.

Continue to cook the mushrooms until they have browned, and stop expelling liquid. Making sure to stir them occasionally to ensure they all brown evenly. This may take up to ten minutes.

Once mushrooms have browned, reduce the heat to medium, and add the garlic, and cook until garlic is fragrant. Stir frequently and make sure the garlic doesn't burn.

Once the garlic is fragrant, add the soy sauce, parsley, and butter.

Continue to stir the mushrooms until they are evenly coated, and the sauce is somewhat reduced. This may take a couple of minutes.

Once the sauce has thickened, and the mushrooms are coated, remove them to a serving bowl, or on to the plates.