I am sure you can tell, I like smoked meat. One staple of the smoked meat scene that I miss out on though, is pulled pork. A dirty secret of mine is that I don't like pork. Smoked pulled lamb however, is my take on it. I've developed this recipe to smoke a leg of lamb to make smoked pulled lamb.
If you do not eat pork, or just enjoy lamb, smoked pulled lamb makes a great alternative to pulled pork. The method used to smoke the lamb is similar to smoking a brisket.
If you are making a pulled lamb sandwich, a great addition to this recipe is a Kentucky Black BBQ Sauce. It will help tame the gamy taste of lamb, and helps cut through the fatty taste if you are using a fatty piece of lamb or mutton.
If you do not have a smoker:
You can still make this recipe in the oven. You will need a large dutch oven, or covered pot or casserole dish. If your casserole dish does not have a lid, you can close it tightly with foil.
To cook it in the oven, cook it at 250°F until the lamb is tender and falls apart (around 203°F most likely). If you braise the lamb, covered, in a large dutch oven, in the apple juice, or other liquid, you will get results that are similar.

Print Recipe
Smoked Pulled Lamb
Yum
Smoked pulled lamb is a great alternative to pulled pork.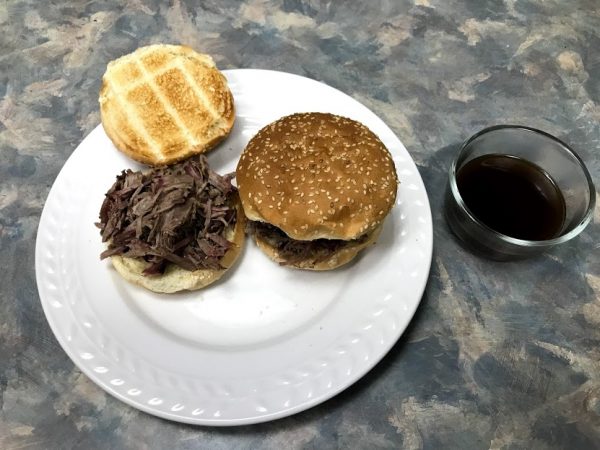 | | |
| --- | --- |
| | |
Combine salt, lemon zest, lemon juice, ground black pepper, and rosemary leaves. Mix to combine into a paste.

Trim any excess fat from the lamb. This will help tame the gamy flavor.

Slather over leg of lamb, and allow to rest in the fridge, from an hour, up to overnight.
Pre-heat smoker to 225°F to 250°F. Add the smoke wood once heated. I use hickory.

Place the leg of lamb on the smoker.

Add more smoke wood as required.

Once the lamb hits "The Stall", usually around 160°F to 170°F, wrap the lamb in foil, along with the apple juice. Make sure to wrap the leg tightly.

Continue to smoke until the lamb reaches 203°F. This final step can be continued in an oven at 225°F if desired. Once it is wrapped, it won't take on any more smoke flavor.
If you don't have a smoker, or you with to cook the lamb in an oven, pre-heat your oven to 225°F.

Add the lamb to a large roasting pan with a cover. Add the apple juice to the bottom of the pan, and place the covered roasting pan in the oven.

Continue to cook until the meat is tender and gives almost no resistance to a fork. It should almost be flaking off. This will take 5 to 6 hours depending on the size of the leg of lamb, and your oven.
Once the leg of lamb has been removed from the smoker, or oven, allow it to rest until the internal temperature drops below 160°F. This may take an hour or two. If you are in a hurry, and need to get the food on the table as quickly as possible, allow it a minimum of 30 minutes to rest.

Move the lamb to a large tray, or casserole dish.

Using two forks, you should be able to shred the meat off of the leg, and pull it apart. The bone should come out cleanly. Shred the meat so that the pieces are uniform in size, and not more than bite sized.
If you are using a sauce, pour the sauce over the meat, and it is ready to serve.
If you are paring this with the Kentucky Black BBQ Sauce, after you pull the meat, pour enough over the meat to moisten in, and serve more along with it as a dipping sauce.