After waiting for my Easy garlicky Jalapeño hot sauce to age, I was really happy with how it turned out. I decided it was time to make another hot sauce. Once again, I used what was available in my garden. Ghost peppers, habanero peppers, and some more jalapeño peppers are what I had on hand. The result was a sweet and smoky hot sauce. And this sauce is hot, perhaps too hot.
The ghost peppers, and the habanero peppers both have a somewhat fruity flavor, and subtle smoky flavor.
I added a small amount of liquid smoke to the hot sauce to enhance the smokiness in this sauce. If you are using a strong flavoured liquid smoke (such as mesquite) , add it a quarter teaspoon at a time. If you are going to add liquid smoke to your sauce, add it slowly, and taste as you add. The liquid smoke can easily overpower the other flavors. I used a teaspoon of hickory liquid smoke in this smoky hot sauce recipe.
Note:
Habanero peppers are hot. Ghost peppers are VERY hot. Make sure to wear gloves when handling and cutting the peppers. You also should turn on your range hood and open a window while cooking the sauce.

Print Recipe
Sweet and smoky garlicky hot sauce
Yum
A sweet and smoky garlicky hot sauce featuring ghost peppers, habenero peppers, and jalapeño peppers.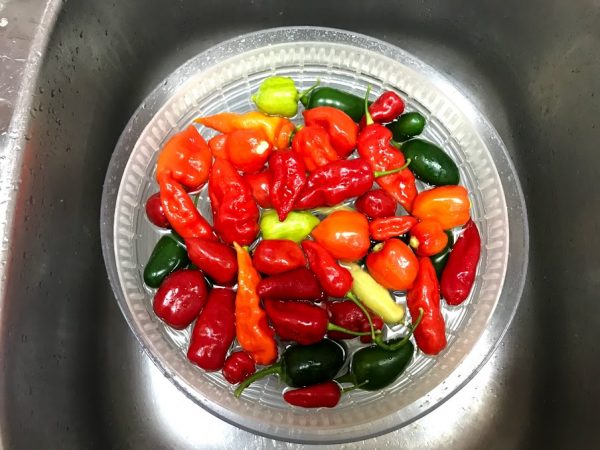 | | |
| --- | --- |
| | |
Wash and dry the peppers.

Wearing gloves, cut the stems off of the peppers, and slice them into rings.

Finely mince the garlic, or grate on a microplane.

Add the peppers to a (small) stainless steel pot, and add vinegar, salt, and garlic.

Cover and bring to a boil.

Once boiling, reduce the heat, and allow to simmer for 10 minutes, until the peppers are softened.

Once the peppers are softened, remove from heat, and allow to cool for a couple of minutes.

Transfer contents to a blender, and blend together. Be careful, blending hot things can be dangerous. You should remove the center of your blender's lid, and cover the hole with a dish towel.

Once blended, and a the desired consistency is reached, taste the sauce, and add more salt if desired.

If using, Add the liquid smoke. Add it slowly, and taste as you add. It should be subtle, and not overpowering.

Transfer contents to an air tight container, and refrigerate.
You can use the sauce right away, but it will be better if you allow the sauce to sit in the fridge for at least 2 weeks before opening it, and using it.
The sauce should last in the fridge for up to 6 months.
If you see mold growing in the sauce, or in the jar, throw it away.  The vinegar should lower the pH enough to prevent bacteria growth, but if the sauce smells off, or looks like it has started to grow things, do not risk it, and throw it away.