With cooking, there are a few flavors I really enjoy. I really like garlic, I really like spicy, and I like sour/vinegary things. So, when my garden produced more Jalapeño peppers than I could easily eat, and I knew what to do with, I decided to make some hot sauce. I went for a easy Jalapeño hot sauce in the style of Louisiana hot sauce.
There are only four ingredients, peppers, salt, vinegar, and garlic. This isn't a complex hot sauce with a lot of other flavors. This was my first attempt at making a hot sauce, and I am very happy with how it turned out.
I look forward to trying some of my other peppers in different sauces once they have ripened.
You can change the sauce up to your own taste preferences. This is just a base sauce that you can build on, depending on what flavor profile you are going for. I like apple cider vinegar, and use it a lot as you can see on this site, so that is the vinegar I used. You can use white distilled vinegar if you want more of the pepper flavor to come though, and less of the apple cider vinegar.
Lots of other vinegar can also be used. I'm thinking of trying malt vinegar in my next batch of sauces.
Some other ingredients that you may want to try in this sauce are oregano, basil, or onions. You could add mustard powder for a spicy mustard sauce.
This is just a simple, easy Jalapeño hot sauce. Take it and improvise however you want. Have fun!

Print Recipe
Easy garlicky Jalapeño hot sauce
Yum
A Louisiana style garlicky jalapeño hot sauce.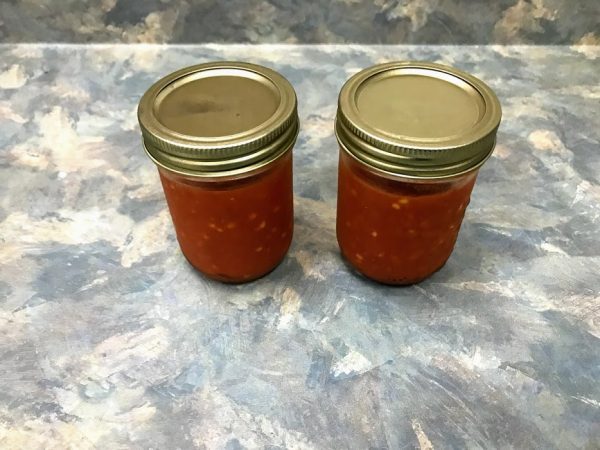 | | |
| --- | --- |
| | |
Wash and dry the peppers.

Cut the stems off of the peppers, and slice them into rings.

Finely mince the garlic, or grate on a microplane.

Add the peppers to a (small) stainless steel pot, and add vinegar, salt, and garlic.

Cover and bring to a boil.

Once boiling, reduce the heat, and allow to simmer for 10 minutes, until the peppers are softened.

Once the peppers are softened, remove from heat, and allow to cool for a couple of minutes.

Transfer contents to a blender, and blend together. Be careful, blending hot things can be dangerous. You should remove the center of your blender's lid, and cover the hole with a dish towel.

Once blended, and a the desired consistency is reached, taste the sauce, and add more salt if desired.

Transfer contents to an air tight container, and refrigerate.
You can use the sauce right away, but it will be better if you allow the sauce to sit in the fridge for at least 2 weeks before opening it, and using it.
The sauce should last in the fridge for up to 6 months.
If you see mold growing in the sauce, or in the jar, throw it away.  The vinegar should lower the pH enough to prevent bacteria growth, but if the sauce smells off, or looks like it has started to grow things, do not risk it, and throw it away.