I first had gochujang in bibimbap, a Korean dish.  I fell in love with the spicy and savory red paste, and started looking for uses for it.  After some research, I came up with a gochujang marinade for a Korean style flank steak.
Gochujang, also called red chilie paste is a Korean fermented condiment that is spicy, savory and sweet.  It pairs very nicely with beef, and chicken.  You can use chicken in place of beef in this recipe, but I find it tastes better with beef.
Gochujang comes in different levels of spiciness.  If you get a batch that is too spicy, you can reduce the amount you use in the marinade.  Gochujang may be difficult to find, depending on you area.  If you have an Asian grocery store near you, they should carry it.
This dish pairs well with jasmine rice, or a salad.
Any marinading, quick cooking steak can be used in this dish.  If you can't find flank steak, skirt steak can be substituted. Another cut of beef to try this on would be thinly sliced (quick fry or Miami style) beef short ribs. Chicken can also be used, but you will need to be careful when cooking, as the marinade burns easily.
Click here for other recipes using gochujang paste.

Print Recipe
Korean style flank steak
Yum
A spicy, savory, sweet marinade that goes great with grilled steak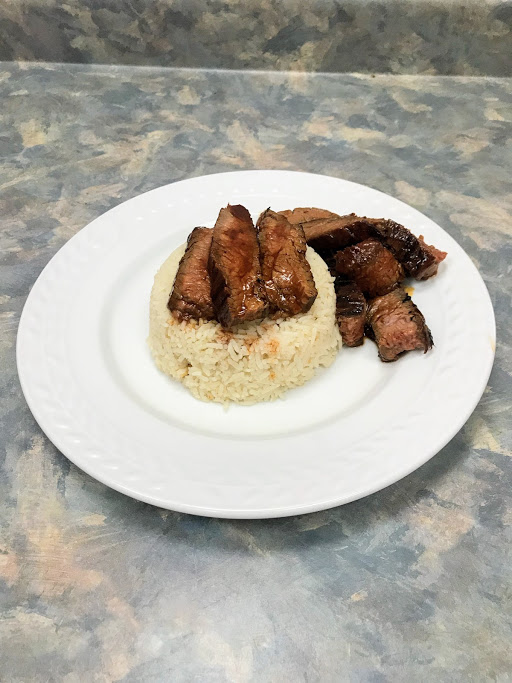 | | |
| --- | --- |
| | |
Measure out ingredients, and allow the marinade ingredients to warm up for a few minutes. It'll be easier to combine if they are at room temperature.

Combine gochujang paste, honey, soy sauce, sesame oil, and apple cider vinegar. Stir to combine.

Reserve 1/3 or the sauce for later use.

Place the steak in a zipper lock bag, and pour remaining two-thirds of the sauce over. Remove as much air as you can out of the bag, and seal the bag. Make sure the steak is coated in the marinade.

Put reserved sauce, as well as the marinating steak in the fridge. Allow the steak to marinate for a couple of hours, up to 12 hours.
Start the grill to medium heat.

Remove steak from the bag, and pat dry with paper towel. Dispose of the left marinade in the bag. Do not use the used marinade.

Grill the steak over medium heat until the desired doneness is reached. Flipping the steak often. Reduce heat if the marinade begins to burn.For medium rare, aim for 125 degrees Fahrenheit. The steak will continue to raise in temperature as it rests.

Remove the steak from the grill, and cover in foil. Allow it to rest for 10 to 15 minutes.
Once the steak has rested, transfer to a cutting board.

Warm up the reserved marinade in the microwave. It doesn't have to be hot, but as long as it isn't cold.

Slice the steak across the grain, in strips roughly 1/4 inch wide. Transfer steak strips to a large bowl.

Toss the steak strips with the reserved marinade, along with any juices from the steak.

Serve over steam rice, or salad.
You may need to adjust the amount of gochujang paste depending on how spicy you like your food.  Make sure to taste the marinade before you pour it over the meat.  You may want to add the gochujang paste as the last ingredient while making the marinade, to allow you to adjust the level of heat in the marinade.  It is easier to add more, than it is to reduce the amount after it's been added.