I am sure you wouldn't be surprised to learn we eat a lot of meat in my family. We really do. It also wouldn't be surprising to learn that I enjoy cooking. I do, I enjoy cooking, and cooking meat. Sometimes though, we like a lighter meal, and one easy, and light meal is, a grilled chicken caesar salad.
One problem I have with a lot of the chicken caesar salad recipes you will find, is that they leave the chicken breast unseasoned. You do not have to heavily season the chicken, but some seasoning really helps and makes the entire dish that much better.
When seasoning the chicken breast for a chicken caesar salad, you do not want flavourings that clash with the caesar dressing, nor flavours that overpower the dressing. I tend to lightly season the chicken with a bit of garlic and onion powder. And salt. If you haven't noticed, I use salt a lot. Maybe too much.
A grilled chicken caesar salad makes a nice, quick, light, healthy, and tasty meal that doesn't have to taste bland, or boring.
You can use whatever chicken you want for this recipe, but the standard cut of chicken to use is a boneless, skinless, chicken breast. Whatever chicken you decide to use, you will want to slice the final pieces of chicken into bite sized pieces, without bones. Also, if your chicken has the skin on when you cook it, if it is not crispy, you may want to remove it. A chewy chicken skin can really ruin the taste and experience of this meal.
Note:
I will assume you know how to make a caesar salad already, and won't address that in this recipe. I will assume you already have all the fixings for a caesar salad. If anyone wants my recipe for a caesar salad, let me know.
Print Recipe
Grilled Chicken Caesar Salad
Yum
A grilled chicken season salad makes a nice, quick, light, healthy, and tasty meal that doesn't have to taste bland, or boring.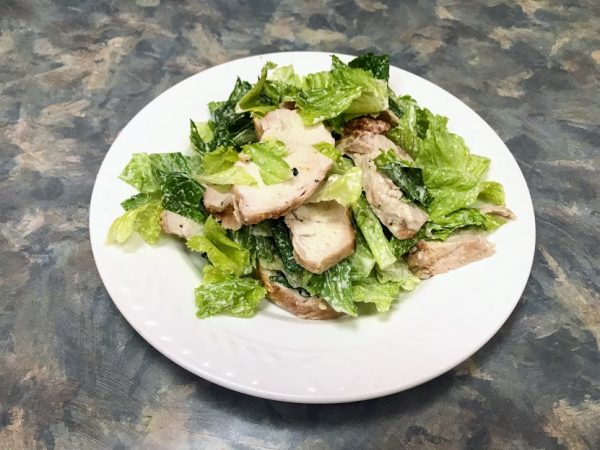 | | |
| --- | --- |
| | |
Pre-heat the grill to medium heat

Season the chicken breasts with the salt, garlic powder, and onion powder.

Grill the chicken breasts over medium heat. Roughly 6 to 7 minutes per side, until the chicken is cooked through and reaches 165°F for white meat/chicken breasts, or 175°F for dark meat (thighs).

Once the chicken is finished, move it to a cutting board and allow it to rest for a few minutes.
Assemble the caesar salad by tossing together the dressing, chopped lettuce, and Parmesan cheese, bacon bits, and croutons if using.
Thinly slice the chicken, into bite sized pieces.
Add the chicken to the salad, and toss it together. You may need to add more dressing.

Serve while the chicken is still warm.