Steamed mussels are very tasty, they are also very easy to make, and are hard to mess up. Steamed mussels are also one of the cheaper seafood options available. They are also my favourite seafood dish.
Growing up, I spent time visiting family in Prince Edward Island almost every other summer. It was a regular occurrence to watch one of my uncles, or my grandfather cooking mussels. In fact, the first time I cooked mussels, I just did what I remember what they did. I heated some liquid, put the mussels in, and cooked them until they were done.
And they turned out "alright". That was a few years ago now, and now when I cook them, I spend a bit more effort, but in a pinch, that method still works. With a little thought, you can upgrade the dish to something a bit tastier than just steamed mussels, and something that is sure to impress your dinner guests.
Cooking Liquid for steamed mussels
The biggest choice to make when making steamed mussels, is the choice of the liquid to cook them in. You can use water, and produce good results, but using a liquid that adds a bit of flavour will make for a tastier dish. Some people use beer, or wine to cook their mussels in, and they are good choices.
I tend to use a bit of butter, some garlic, maybe some herbs, and whatever broth I currently have.
The cooking liquid is great for dipping bread in, as you eat the mussels, so adding a bit of flavour to it is a great idea.
Cleaning and debearding
When you buy mussels, try to get farm raised ones. Not because they are better for the environment, but because they usually are much cleaner. Wild ones tend to be dirtier, and need debearding.
To cleaned the mussels, place them in a large colander, and rinse them under cold running water. Use a scrub brush to clean off any debris on the outside of the shell. You will also have to remove the "beard", the membrane they use to affix themselves to whatever surface they are growing on. To remove the beard, grab it and try to pull it off. Or use a small paring knife to cut it as close to the shell as you can.
Try to buy farm raised mussels if you can, as they tend to be already cleaned and debearded.
Checking for dead mussels
No matter how fresh your mussels are, or how they are packaged, and transported, there are going to be some that are dead. You don't want to eat these, and the easiest way not to eat them, is to not cook them.
You will want to sort through all of the mussels. Sadly, this takes a few minutes to do, and sometimes takes longer than actually cooking the mussels, but it is important to do.
Remove any mussels that have cracked shells. You will also want to remove any mussels that are wide open, and not closing up.
I tend to sort them into three piles. One for cracked shells (the discard pile), one for ones that are open, and one for ones that are closed tight (the pile to cook).
Once I make my first pass, I take the second group of mussels, which were open, and see if they have closed up a bit. If the mussels close up after being handled, and sorted, they get moved to the third pile. The mussels that are still open, I close them manually a few times, and see if they close up. If they don't, I move them to the discard pile.
Print Recipe
Easy Steamed Mussels
Yum
Steamed mussels are very tasty, they are also very easy to make, and are hard to mess up. Mussels are also one of the cheaper seafood options available.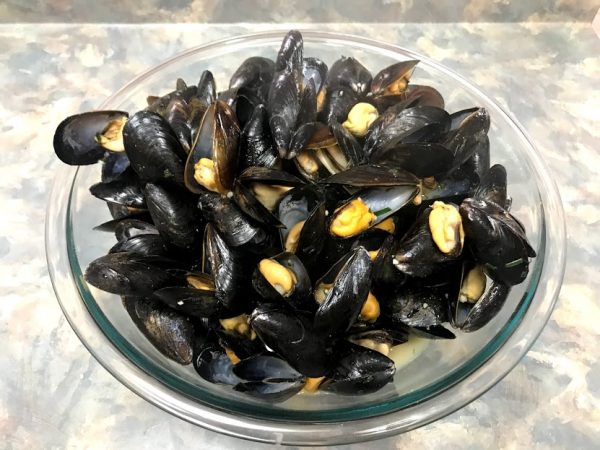 Heat a large stock pot over medium heat

Add butter, and wait for it to begin to foam.

Add garlic, stirring frequently. Once it begins to soften, and become aromatic, add parsley and chives, or whichever herbs you are using.

Pour in chicken stock, and bring to a boil.
Once boiling, add mussels carefully, and cover. Turn heat up to medium-high.

Allow to steam, shaking the pot every 30 seconds, or so to move them around.

Within a minute, they should begin to open.

Once all of the mussels (or most) have opened, and "look cooked", they are finished. This usually takes less than five minutes. They are usually finished in three or four minutes, but depends on how many mussels you are cooking, your cooking liquid, and how hot you are cooking them. Anything more than five minutes, you are probably cooking them too long.

Remove the pot from the heat, and transfer the mussels to a large bowl for serving.